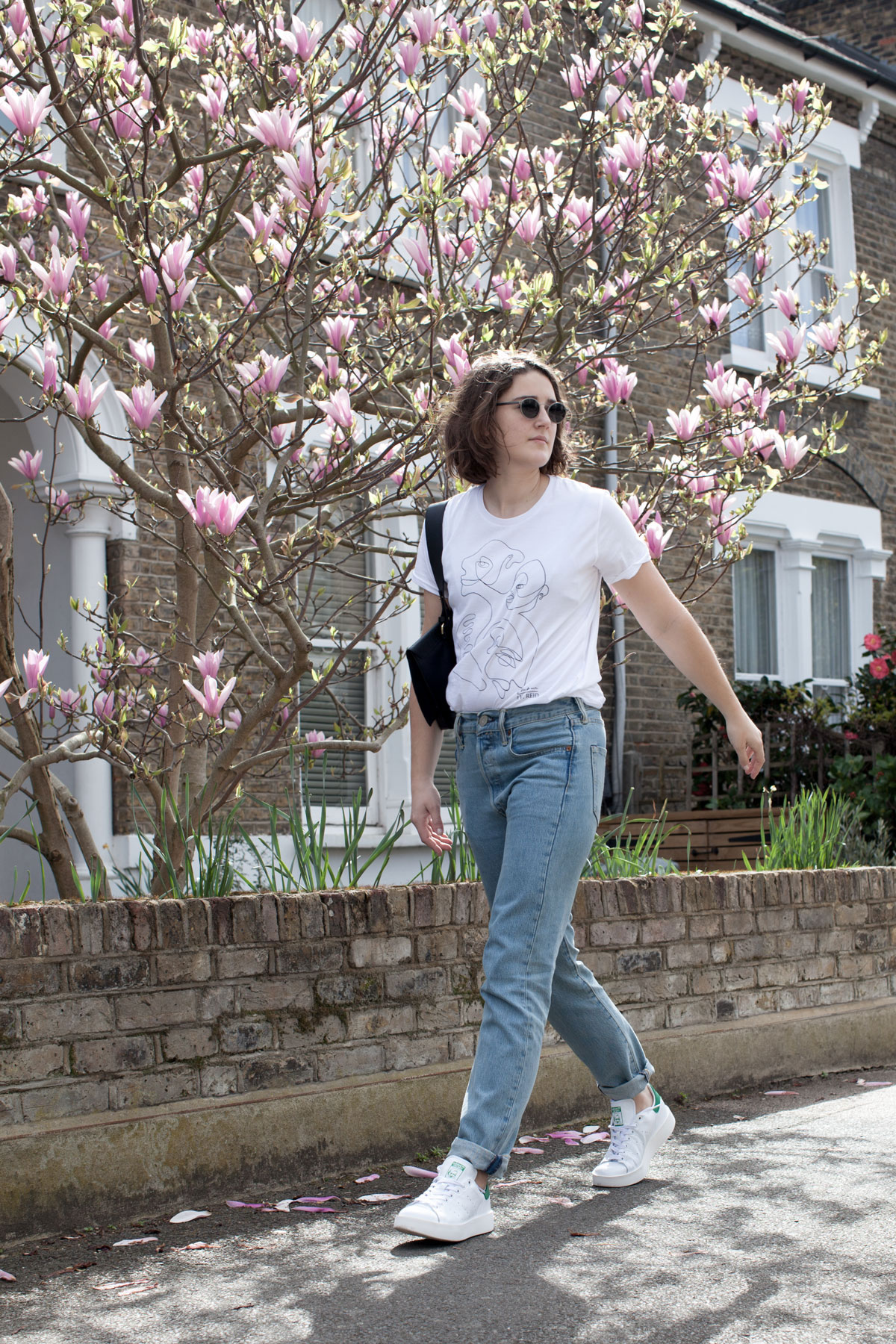 ---
Wearing: JV Reid tshirt, Blyszak shades, Levi's jeans, platform Stan Smiths from footlocker and Danielle Foster Mara bag
---
So you know me, I couldn't resist one last galivant underneath the neighbourhoods Magnolia tree. My favourite flower and in my humble opinion, worth waiting a whole year for.
Just as Spring hits London it's time for me to get back on my bike and start peddling to work – yes you have that right, I am a fair weather cycler. Ever since I got knocked off my bike in the rain, I chose to not dice with death. It was the fault of my fashionable Celine sneakers, with no tread on the bottom that had me slip off the peddling. Still no harm done and nothing broken..
As I posted yesterday on twitter, I think everyone has reached peak blossom dealing when I lost 20-40 followers on instagram from posting one last bloom. Haha serves me right as I know it's peak saturation period. BUT I head to Japan in 10 days for sakura season, so suck it up people! And speaking of travel, I'm currently in Lima sucking up the Peruvian sunshine, some magnolias will be replaced by cacti, for at least two weeks anyway. You can feel free to hate me at any point hehe :)
As Spring is in motion we can celebrate the return of the humble tshirt and jeans combo as I'm repping here, no jacket necessary and a smug smile definitely ongoing. I'm in love with these new Adidas platform stan smiths from Footlocker. Perfect casual attire, dressed up with my new Danielle Foster bag – my girl is killing it! The tshirt is from JV Reid and is perfect for anyone obsession over the sqiggly line illustration trend right now. You know what I'm talking about. Whether you've started life drawing or buying the prints, minimal sketches are in. This tee is a collaboration with Danish artist Christiane Spangberg and is pure dreamyness.