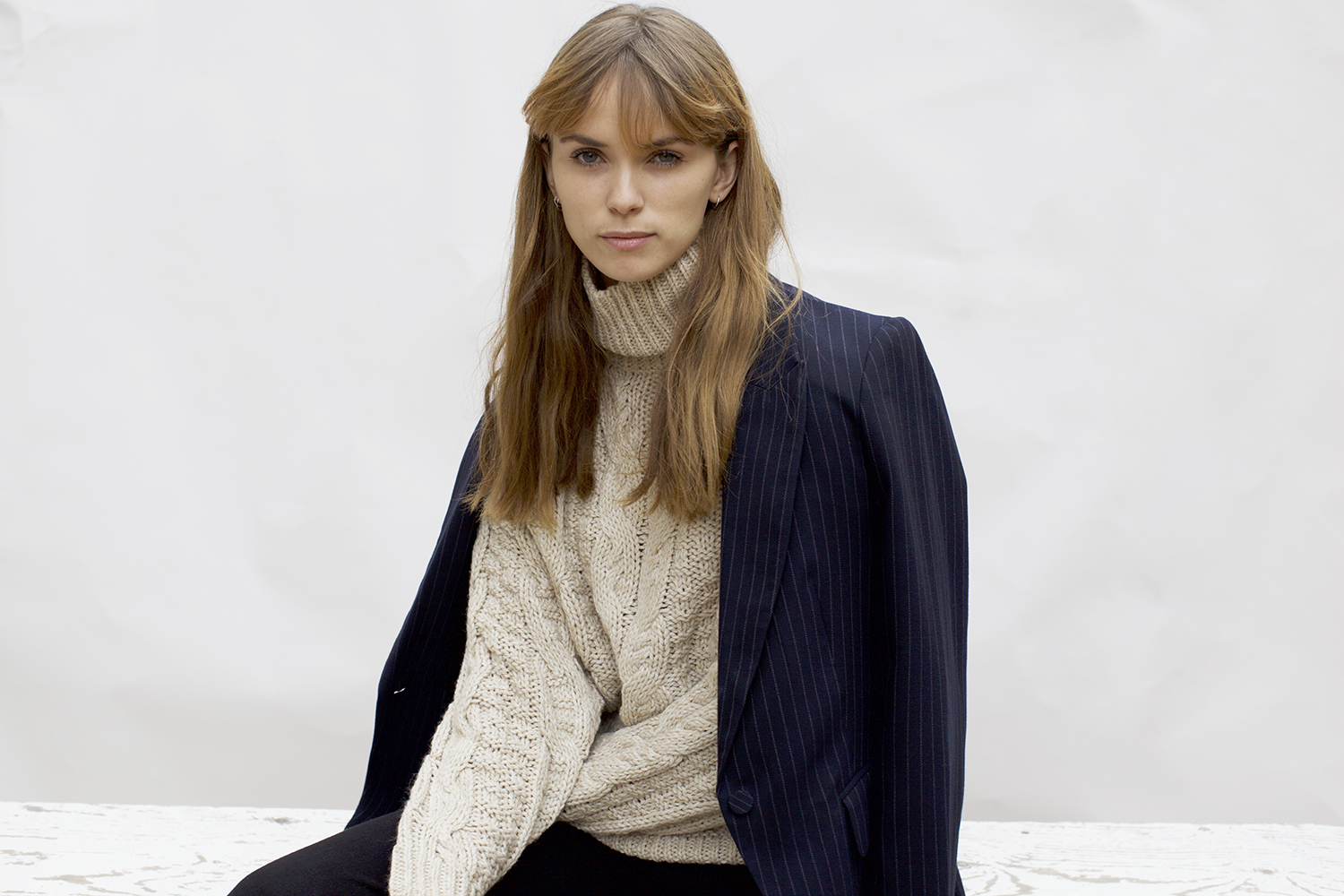 Danielle wears: Pinstripe blazer, chunky knit sweater and trackpant, all from H&M.
Charlie wears: Black knit polo neck and jeans with rucksack al from H&M.
---
Over the years I've had the joy of meeting so many incredible women that inspire me in my own business. One of the most inspiring women in my life is Danielle Foster. She runs her eponymous accessories line in London (but soon to be New York) whilst working as a model and actor. She knows how to juggle big time and so we met for a catch up wearing the new H&M fall collection. For H&M's new fall collection they wanted to make a strong statement for the evolution of women and how important the movement for equality is. Let's face it, it's hard being a woman in any industry but fashion is tough; looks prevail and we are taught from a young age that to be beautiful is to be successful. I talked with Danielle on what's it's like to run her business in 2016 and how she feels the industry is changing in terms of equality and girl power.
Charlie: So of course we used to share a studio together, and over the years I've watched you grow from model and small label start up to the successful business accessories designer that you are today. You inspire me as a woman who knows what she wants and works hard to get it so my question to you is,
Charlie: Whats the hardest aspect of running a business?
Danielle: I think it's the every day grind, fighting through those lows, you never get a day off. Working on holidays, or things build up. You're needed by the business 24/7, and you thrive from that but it's also exhausting. You need to be consistant and on the ball, you cant go out and be boozey, theres always something that happens on that day (laughs).
Charlie: How do you think the industry is evolving and tipping the scales for equality?
Danielle: I think in the past there were a lot of designers (men) that were more high profile such as Karl Lagerfeld or Marc Jacobs, but women have become great role models in the industry. I have a personal connection to that because there's a group of us in London, all women, all driving our business and doing well, such as you, Blake London, Marina London we're a group that supports each other. The scales have been tipped completely. Go girl power!
Charlie: What's femininity mean to you?
Danielle: To me, it's power and inner strength. I think its not about being a delicate flower on a mans arm. You're working hard, equally as hard as your partner. They're cooking for you at home whilst you're the one coming home late. Women of course still have that feminine attraction to them but the new sexy is about knowing what you want and working hard to get it.
Charlie: How do you juggle being a model, an actor, AND running an accessories label?
Danielle: I love being busy, if I have an hour spare I get bored! I don't know what to do with myself, I hate having time. When I launched my brand with Elite models they supported me so much, they allowed me time to put into my business and helped me grow to what it is today. As the brand grew bigger; I grew bigger in myself, being able to manage things, things slowly grew together. I'm good at time management, as I've had to learn that. I've had to keep my physique and working hard, having a good team around you is of course important too! That support system keeps you going.
Charlie: You're moving to New York next month which is so exciting! What are you most excited about?
Danielle: The partys! (laughs) No but seriously it's going to be amazing, I'm excited about the change. We've just launched with Shopbop and the brand is growing out there and having me on the ground to support that will be great. I'll be promoting the business being based in new york, I've got a new NY modelling agency and I've started acting as well. So I'll have time to meet new people, press, bloggers, do pop ups, taking over another a city! My brand has always sold well in the states so it will be great to expand it there and let people know "I'm here!" You cant do any better than actually being there.
Charlie: Who inspires you to be your best and achieve personal greatness?
Danielle: I always get asked this and its really cliché and soppy but its my dad. He came from nothing and built up his business through hard work, he's always inspiring to me and any time I say 'Dad, its hard' he always picks me up and says you know, keep going Danielle. I've seen him go through loads as a kid and it's a lucky insight into business and knowing from that early age what it actually takes to be success. I know that's a process of the business. When you're down in the dumps its your family that picks you up, that close connection that keeps you going.
---
Thank you H&M for collaborating with me on this inspiring women campaign.